Junk Kouture Griffith Bursary 2022 Awarded
Saibh Mitchell's Madame Cellophane was the chosen design
Congratulations to Saibh Mitchell who was awarded the Griffith College Junk Kouture Bursary Friday afternoon with her circular and sustainable design, Madame Cellophane.
Junk Kouture is a competition for secondary school students ages 13-18, where they must create high-end fashion to wear from 'junk'.
Speaking about her winning design, Saibh Mitchell said, "It's really cool because there were so many great designs this year and it feels great to be recognised and to have won. The materials really led this design. I went to my local supermarket who had so much plastic and were kind enough to let me take it. I just ran with the material and started looking at different types of plastic and textures. I knew I wanted an all-white look, to have a bit of a bridal feel and just went with it. I wanted a classic silhouette and was looking at Victorian fashion and got really inspired by the corsetry which I included in my bodice. The silhouette was also inspired by my communion dress".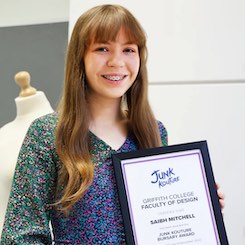 "It was a great experience for me, and it was fantastic to have our school behind us, shout out to Ms. Cullen who supported and helped us along the way and our families as well. For anyone who is thinking of applying for Junk Kouture I'd definitely say go for it, source your materials, figure out your silhouette and see where it takes you. Stick with it, it's a great day and you'll be proud of the piece at the end", continued Saibh.
Jane Leavey Programme Director of Fashion Design at Griffith College and Junk Kouture technical Judge, selected Saibh Mitchell from Malahide Community College, Dublin as the winner of the Junk Kouture Griffith College Bursary 2022 to study the BA (Hons) in Fashion Design degree. "Multifunctional design is an important aspect of sustainable fashion, Madame Cellophane stood out as a unique design which transformed into a second look and brought together many elements of sustainable design," exclaimed Jane. 
The design faculty at Griffith College would like to wish Saibh a big congratulations again.
Learn more about Fashion Design at Griffith here.