Griffith Institute of Language, Dublin, offers English Language learning within a fun and safe college environment in Dublin's city centre. We offer a wide variety of English language courses including General English (Beginners to Advanced), Business English, English for Academic Purposes, Exam Preparation, and English Summer Courses. We also provide English language support for international students studying on our degree programmes. The College's Dublin campus has onsite accommodation* and excellent facilities for students to use. So apply today and prepare to experience the leading English courses in Dublin for all language levels, in an exciting and immersive environment.
*Onsite accommodation is only available for individual bookings during the Summer season. Onsite accommodation may be offered to groups all year round, depending on availability.
Griffith Halls of Residence is purpose-built student accommodation located on the grounds of Griffith College Dublin. Just 15 minutes walk from Dublin city centre, Griffith Halls of Residence boasts an enviable central location that makes us ideal not just for Griffith students, but also students attending any of Dublin's universities or other third level institutions. We currently have students both Irish and Foreign from Dublin Institute of Technology (DIT), Trinity College Dublin, NCAD, Dublin Business School (DBS), UCD, DCU, Royal College of Surgeons (RCSI) and many others.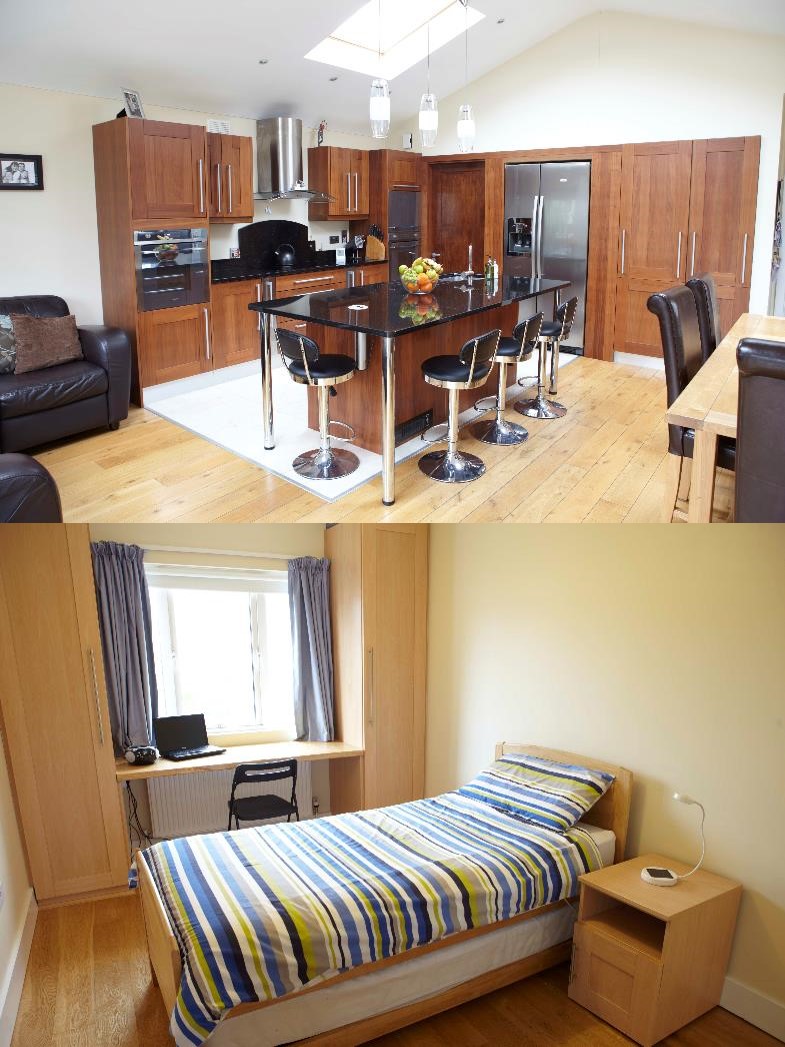 Host Family Accommodation
Arriving in a new country can be a daunting experience, but getting a true Irish welcome from one of our host families will make you feel like you are in a home from home. It is also great way to improve your English and learn about Irish culture and life.
Our Recruitment and Inspection Policies
At Griffith we have a policy of recruiting families, in safe and secure areas, with high quality houses. We inspect all of our families against a set of national standards, as well as
some additional standards that we have added ourselves. In the interests of safety and in line with our accreditation standards, all of our families are vetted by An Garda Síochána –
the Irish police service.
Relax in the Students' Union* and socialise with students from all over the world, including native English speakers from Ireland and America. Join the clubs and societies free of charge. Meet up in the College restaurant. Go out on great student nights or weekend trips away. Improve your English by immersing yourself in the language and become truly fluent.
Social Programme (Summer)
Regular cultural activities take place 2 – 3 times a week, and give you the inspiration and ideas to complete your project work. There are also weekly Saturday excursions that give you the opportunity to visit many places in Ireland including, Kilkenny Castle, the Cliffs of Moher and Newgrange.