Griffith Alumni Profiles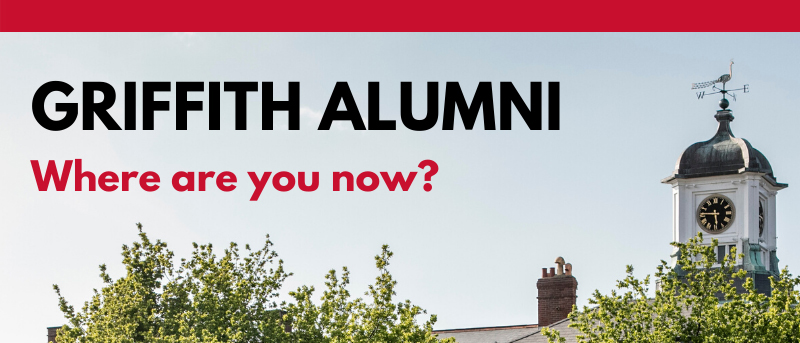 We want to know what you are doing now! All you need to do is tell us your story and how studying at Griffith College has impacted your life. It doesn't matter when you graduated; we want to hear where life has taken you and we want to hear your Griffith story so we can proudly report it in our publications.
Contributing an alumni profile is a fantastic way to support the college - your profile could encourage a prospective student to study at Griffith or help a current student determine their career path. 
You can complete the online alumni profile questionnaire here.
We will update the Griffith alumni testimonials webpages sporadically throughout the year; your profile may also be shared on our social media pages or be used in other marketing publications.
If you want to update your profile, just drop us an email to let us know of any changes. You can also connect with us on our official social media channels: LinkedIn, Instagram or via the Griffith Alumni Network.
Alumni Profiles
MSc in International Business
"I chose it because of the diversity of nationalities within the course...I thought I'd get good exposure to people."

- John Hearty
MSc in Computing
"I've been really facilitated by the staff, be it administrative, be it lecturers....I made a determination that I needed to both upskill and achieve."

- Ruairi O'Murchu
MSc in Applied Digital Media
"It's not a change I could've made without the digital media Master's I did at Griffith - it was one of the things that jumped out from my CV."

- Paul Mallon
BA in Journalism
"It was definitely the work I did here that gave me the skills to do it...The lecturers were really hands-on and gave you a lot of practical work, even from the very start."

- Stan Harding
BA in Interior Design
"I felt like my 3-D skills, my drawing skills, site survey, pretty much the whole combination ensured that the project really ran smoothly."

- Juliana Montengro
BA (Hons) in Fashion Design
"I won the first-year Jennifer Rothwell Internship award. The guidance from tutors to create our own individual style is what I think will help me to be successful."

- Emma Collopy
BA (Hons) in International Hospitality Management
"Many of our lecturers, especially in the hospitality management programme, are involved in the industry, so they're in tune with what's going on - but they also have the experience of how it used to be."

- Monica Mambo
Professional Accountancy
"You get into industry, and you get into a career, and you really need to be continually looking at what it is you can do to improve."

- John McWeeney
MBA in International Business
"I really got a taste for the international dimension of working in the commercial world...They really read between the lines when they saw my CV."

- Rob Shanahan