Griffith College Legal Debating Competition 2018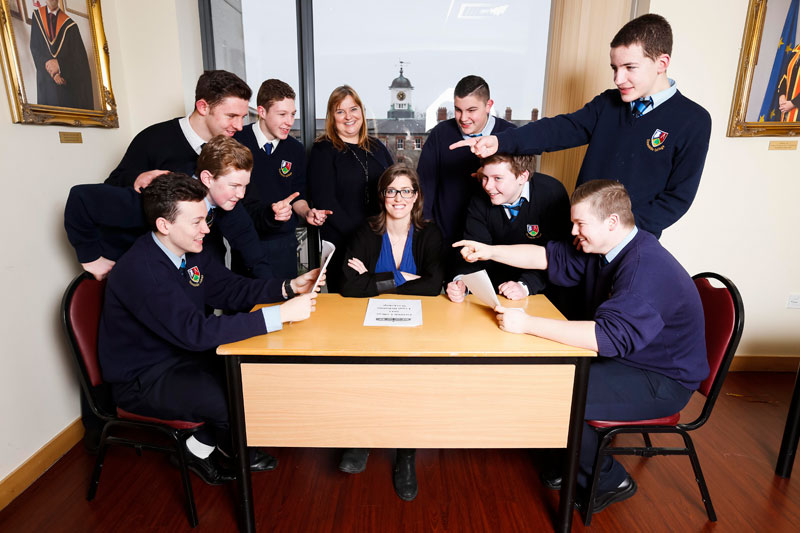 Congratulations to our 2017 winners
1st Place: Patrician Secondary School Newbridge, Co. Kildare
2nd Place: CBS Naas, Co. Kildare
The Annual Griffith College Schools Legal Debating Competition takes place on Wednesday 21st March 2018 at the Griffith College campus on the South Circular Road, Dublin 8.
The competition is open to all fourth, fifth and sixth year secondary school students.
Entry Requirements
To partake in the Legal Debating Competition, you will need to submit a general essay on the motion;
"The House believes reality television does more harm than good."
Essays should be 1,500 words in length.
One essay can be submitted per team of 4 students.
Essays should be submitted no later than 5pm on 14th February 2018.
Essays should be accompanied by a cover letter confirming school details, name of team members, contact details (teacher etc.)
Eight teams will be shortlisted to attend on 21st March 2018.
The eight teams shortlisted will be contacted no later than 25th February 2018
Successful teams will at this time be assigned to either the proposition or opposition of the motion.
Competition Guidelines
The teams will consist of 4 students where each student will speak for between 3 - 5 minutes to a maximum of 15 minutes per team.
There will be a knock from the time-keeper at the end of 1 minute and the end of 4 minutes so students can keep track of timing, followed by a double-knock at 5 minutes.
Students will be penalised in points for continuing after 5 minutes.
Points of information are allowed but only between the first knock at 1 minute and the second knock at 4 minutes so the first minute and the last minute of a speech cannot be interrupted.
The proposition will start the debate with the first speaker (usually the captain) speaking first, followed by the opposition captain, alternating until all 4 team-mates on each side have spoken.
There is no specific time-allocation for rebuttal so it should be integrated into speeches.
Judges do not tend to ask questions but are permitted to do so.
The Final
The teams that reach the final will be informed before lunch.
The final two teams will have one hour to prepare their debate, the motion being
"This House believes that the Gardai should be armed."
The opposition and proposition will be decided on the day.
Members of the Griffith College Debating Society will be available to assist the final two teams.
The rules for the final are similar to those of the initial rounds.
Please note, supporters from your school are welcome to attend this event and we would ask you to contact us in advance to confirm the number of supporters attending.
​​To apply for the competition click here.
All submissions and queries can be sent to [email protected]
For Debating Guidelines, please click here.
For Debating Tips, please click here.