Griffith Institute of Language - Dublin Campus
Griffith Institute of Language - Dublin Campus
THE CITY
The college is in close proximity to all amenities including shopping, restaurants, parks, museums and bars. Dublin is the capital city of Ireland and is also the largest. The people are friendly and willing to welcome you in the city. Dublin is located on the east coast of Ireland with easy access to the sea for walking, hiking, or swimming amongst other things. Dublin also has excellent transport connections to the whole island of Ireland where you can explore all the many things Ireland has to offer.
GRIFFITH COLLEGE DUBLIN
Griffith College Dublin opened on its existing campus in 1974. It is a historic setting which dates back over 200 years to its construction in 1813. This historic campus setting provides a wonderful environment to meet people from all over the world while studying. In addition to its historic buildings, the campus has also a modern conference centre, lecture rooms and student accommodation. Griffith Institute of Language Dublin is our centre of excellence for English for Academic purposes, pre-sessional programmes, in-sessional programmes and bespoke English language programmes.
Nationality Mix (January - June 2023)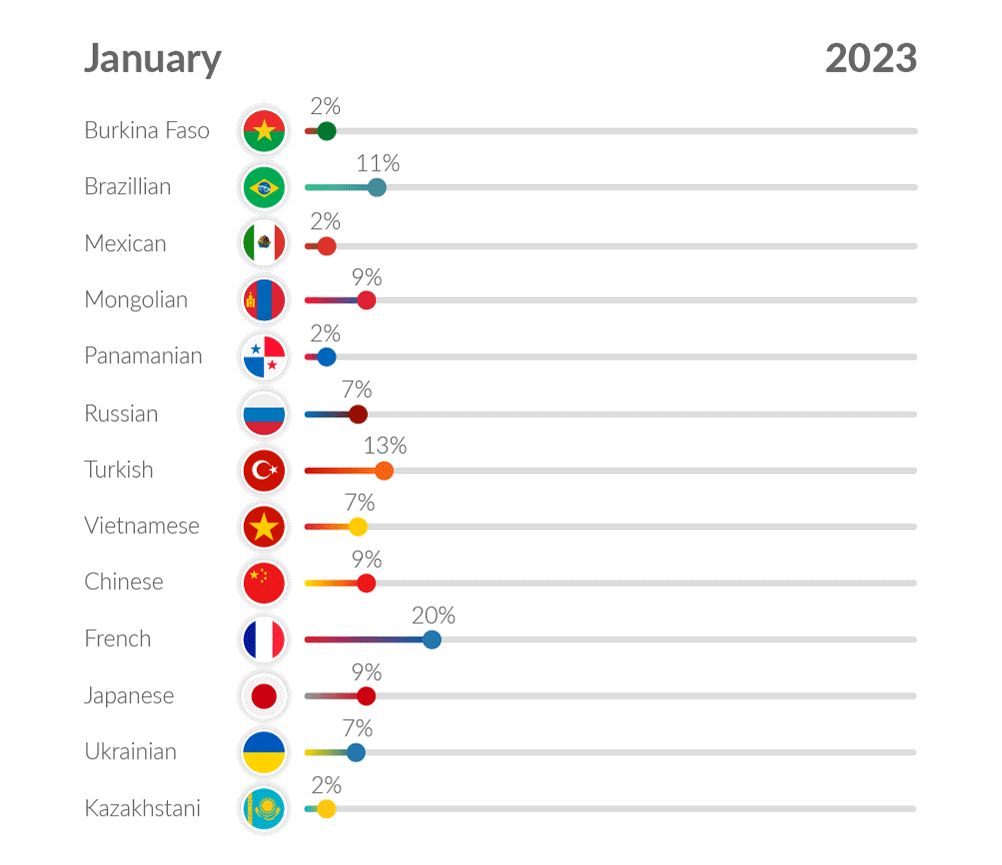 ACCOMMODATION
Living with a local family helps students to relax and integrate into life in Ireland and is a lovely way to start your time here. All host families and inspected and monitored by the college.  We have many families within walking distance of our college or a short bus ride away who have been hosting with us for many years.
At Griffith, we have a policy of recruiting families in safe and secure areas with high-quality houses. We inspect all of our families against a set of national standards, as well as some additional standards that we have added ourselves. Our host families are given a handbook and sign an agreement when the accommodation officer is satisfied with the inspection. All our families are re-inspected once a year or if an issue has been raised.  The family will welcome you to their home and you can speak English throughout your stay. All our families are half board which means they provide breakfast and dinner Monday – Friday and breakfast, lunch and dinner on Saturday and Sunday. 
In the host family your will have a comfortable room with clothes storage, access to shower / bath, adequate study and fresh home prepared meals.
Alexia Romana Meira Oliveira De Britto
Starting Level: A2
Current Level: High B2
Expected Completion Level: C1
Programme Type: English for Academic Purposes Programme
Duration: 25 weeks originally, has extended twice