Register Online
New students can log in to MyGriffith using your 7 digit reference number that you will find on your offer letter and your date of birth as your password in the format day/month/year. For example, if your date of birth is the 1st of June 1990 you would use 01/06/1990 including the forward slashes.
Returning students can log in to MyGriffith using your Moodle username and password.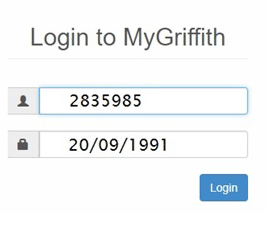 Should you have any queries in relation to the registration process please email [email protected].
Registration for Supplemental Exams and Assignments
If you have failed or did not complete a subject during the academic year, you are required to retake the subject at the supplemental sitting that is normally held in August. You will be automatically re-registered by the College for this sitting and invoiced for any relevant repeat fees by the Student Fees Office.
De-registration
The College reserves the right to de-register or withdraw students in the case of poor attendance, inadequate or inappropriate participation in class, or if found in breach of any College regulation or policy. Once de-registered, you forfeit all claims on a place in a class and on College facilities, and any financial grant or assistance being received.
The right to refuse admission
The College reserves the right to refuse admission to any of its programmes of study at its absolute discretion. The College reserves the right to make all appropriate enquiries of any applicant and of any student who has been admitted. If an applicant or student fails to disclose any information that in the view of the College could affect the health and safety of others, the College reserves the right to refuse admission or to require the student to withdraw from a programme of study, as the case may be.
Updating Personal Details
Personal details can be updated on MyGriffith.
In some cases, you may not be able to update your personal details on MyGriffith. In this case you can contact your faculty course or programme administrator and submit a Learner Record Amendment Form (LRAF) to have your details updated.
Useful Form
Learner Record Amendment From