A Week of Good News from the Media Faculty!
Griffith College media student in final of government competition celebrating 50 years of Ireland's EU membership
The Faculty of Journalism & Media Communications congratulates third-year BA (HONS) in Communications & Media Production student, Ana Monteiro, for being one of only three third-level students selected for the final of this prestigious competition.
Last September, Taoiseach Micheál Martin, launched this major competition for young people across Ireland which is focused on celebrating 50 years of Ireland's EU membership. The MyEU50 student competition is an initiative of the Government of Ireland, led by the Department of Foreign Affairs and managed by European Movement Ireland.

In launching the competition, the Taoiseach said, "The future of this country, and of the EU, lies in the hands of our youth. It is therefore fitting that, through the MyEU50 competition, they will get the opportunity to explore and express their relationship with the EU and how they want that to evolve over the next 50 years".
Thanking her Griffith College politics and graphic design lecturers, Ana explained how her poster design demonstrates the relevance of the EU's core value in today's Ireland, "This poster aims to motivate eligible electors - Irish citizens over 18 years and registered - to vote in the next referendum. With less than six months to the Gender Equality Referendum, the question is: What is your answer for the referendum, Ireland? Yes or no?"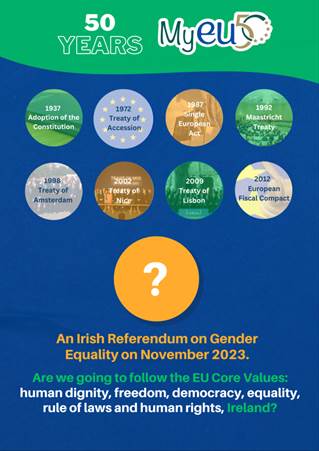 The Ceremony will be held at University College Cork's Banking Hall, Lapps Quay, Cork on Friday, 28 April. 
Griffith secures another Smedias gong
Since graduating, Aoife has secured an excellent role as Account Executive at Carr Communications - one of Ireland's longest-running communications and public relations companies. The media faculty congratulate Aoife on her Smedias and her new job.

Speaking to Barry Finnegan, programme director for the suite of MA's at the media faculty, Aoife said, "It was a shock to win, but I am delighted all the same!" Given the high quality of Aoife's research and writing  while at Griffith College, none of her lecturers were surprised at the win.
Griffith media student finalist at GradIreland Undergraduate Awards 2023
More congratulations are due to Ana Monteiro, media and communications student at Griffith College, who was a finalist this month in the Undergraduate Difference Maker of the Year category. Ana said the nomination was, "For my efforts towards diversity on campus with the Griffith Global project".
You can see a nicely edited video diary which Ana made of her day in the limelight with Grad Ireland, here.