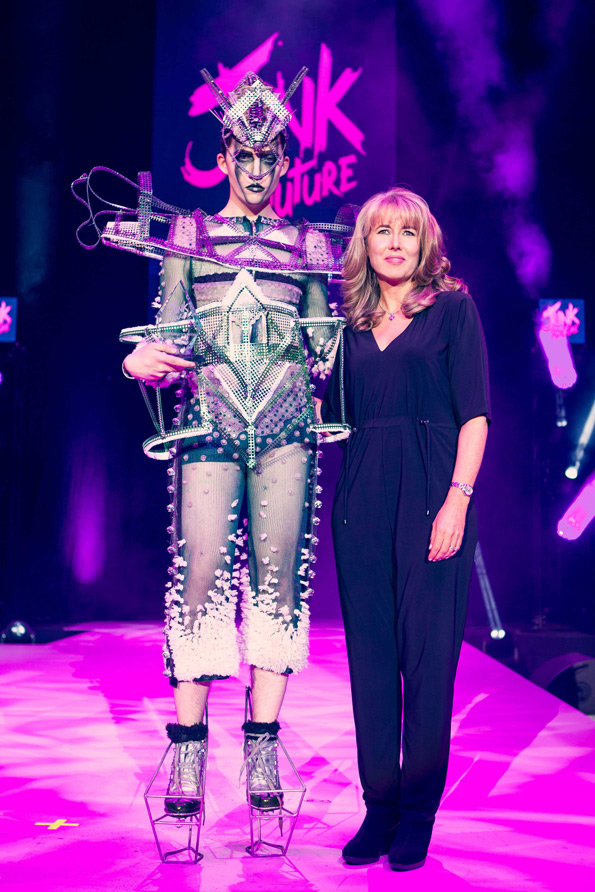 Jane Leavey, Programme Director for Fashion at Griffith College, judged alongside Louis Walsh, Una Healy, Rhys Ellis and Tracy Fahey at the 7th Annual Bank of Ireland Junk Kouture Competition, held in a sold-out 3Arena on Thursday.
Junk Kouture is a national competition for second level students to encourage them to create striking visual, couture designs from everyday junk.
"Bank of Ireland Junk Kouture aims to inspire and ignite passion in these teenagers while at the same time subtly educating them about the importance of recycling and reusing waste."
The winner of the competition and the Griffith College Fashion Design Scholarship was Mariusz Malon from Scoil Mhuire Secondary School, Buncrana. Modelling his winning 'Enigmatic' design, Mariusz impressed the judges with his use of an old trampoline, broken chandelier and an old carpet maker.
"I was thrilled to award the Griffith College Fashion Design Scholarship to Mariusz, he is a very deserving and exceptionally talented designer. His design stood out at the 3Arena. It certainly had that Wow Factor, a striking silhouette and it was created with such skill. His creativity shone through, I can see his future being in the world of fashion creating great conceptual design pieces. Whoever thought a trampoline, rugplan, an old PC and broken chandelier could be crafted into such a stunning design." - Jane Leavey
Mariusz's winning design was featured on the Late Late Show - which you can watch here: