Institute of Certified Public Accountants
Join one of Ireland's leading Accountancy bodies
Griffith College has unparalleled CPA tuition.
Offering a unique Gold-Star qualification.
The CPA Ireland designation is the most commonly used designation worldwide for professional accountants
The Institute's qualification enjoys nationwide recognition.
Available online and part-time in Dublin and Cork.
What Our Students And Alumni Say
Past and current students have shared their experiences of studying their accountancy courses at Griffith College as well as the positive impact it had on them.
I wish to thank Tom for all he did in helping me to not only pass but perform very well in probably the most difficult exam I have ever had to prepare for. Tom went above and beyond what I would normally expect from a lecturer.
For example when CPA changed the online exam platform a few weeks out from the exam, Tom within a couple of days provided us with a tutorial on how best to approach the AFR exam using the new platform which was a huge help during a stressful time.
I had Tom previously at the P1 level as well and would consider him the most effective lecturer I have ever had.
The level of support and detailed notes he gave us throughout the course was brilliant and hugely impacted my exam result.

I would like to thank everyone in Griffith College for the prompt and efficient support provided to me during my studies in the year 2021.
I would like to thank also to Paula Byrne, an excellent and dedicated lecturer. Paula`s very well structured lecture notes, revision notes and her availability, support and encouragement have driven me to receive the highest score for Financial Accounting in the year 2021.
Thank you to all who helped me.

I chose to study for my CPA qualification through Griffith College as it has an excellent reputation as one of Ireland's leading third level institutions for exam success in professional accountancy. For me working full time, Griffith College was my first choice due to the flexibility that they offer students in preparing for and sitting examinations and for the past number of years I have been availing of their online lectures. I owe a great part of my success to the excellent tuition that was provided by Griffith College and I would strongly recommend them to anyone who is considering what institution to chose to begin their studies."
Intake dates
New intake for September- April 2024 will open shortly.
Apply now to express your interest. 
Course Details
Dublin/Online
Foundation
Financial Accounting
Management Accounting
Taxation
Management Fundamentals
Professional
Financial Reporting
Performance Management (From Cork or E-Learning)
Advanced Taxation
Audit & Assurance
Managerial Finance
Corporate Law
Full Course
€650
€650
€650
€650
€650
€650
Repeat Course
€552
€552
€552
€552
€552
€552
Strategic - Compulsory
Advanced Financial Reporting
Strategy & Leadership
Advanced Taxation Strategy
Audit Practice & Assurance (Fom Cork or E-Learning)
Strategic Corporate Finance
Data Analytics For Finance - Offered by CPA directly
Related Courses
Related Articles
Winners
Recent Winners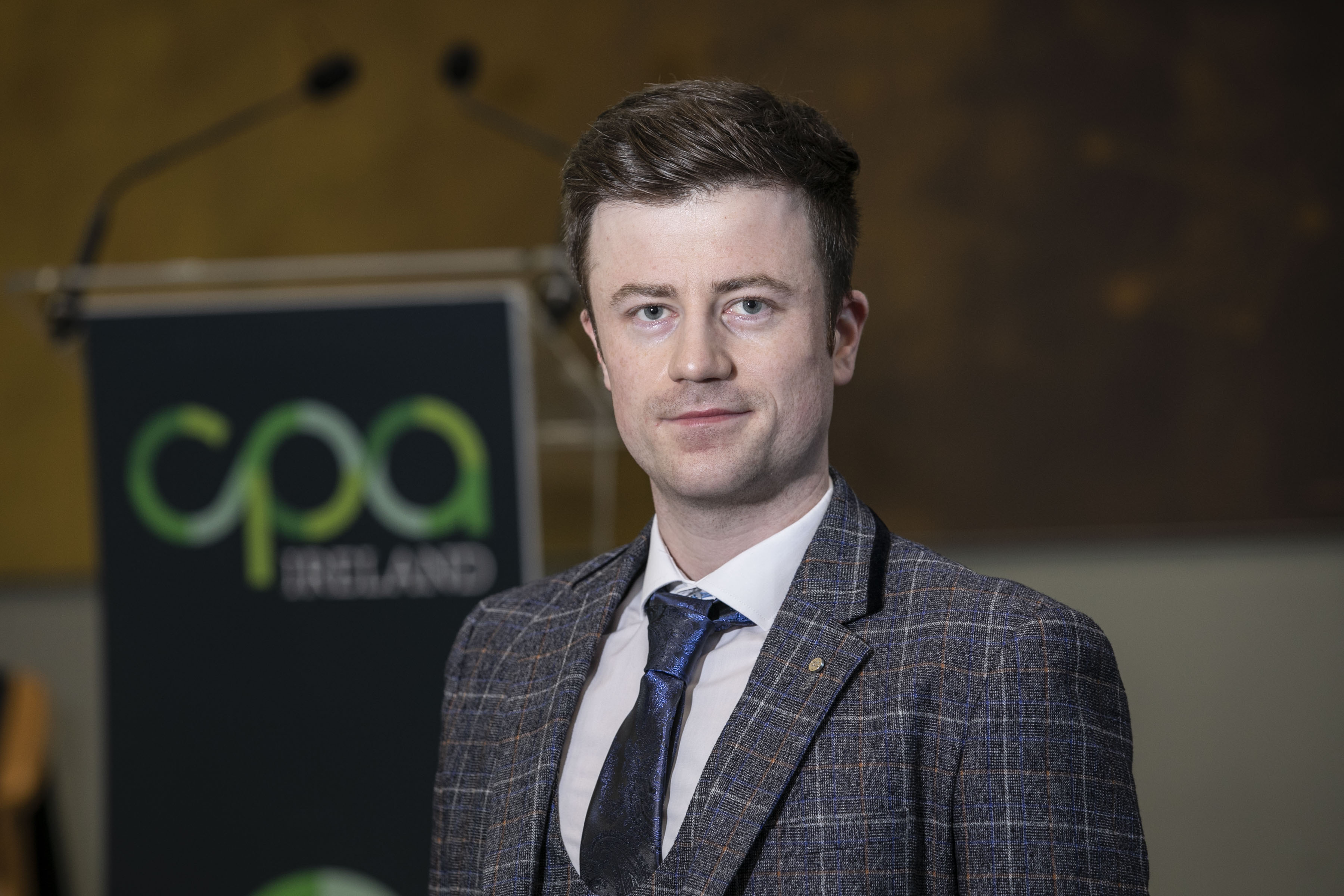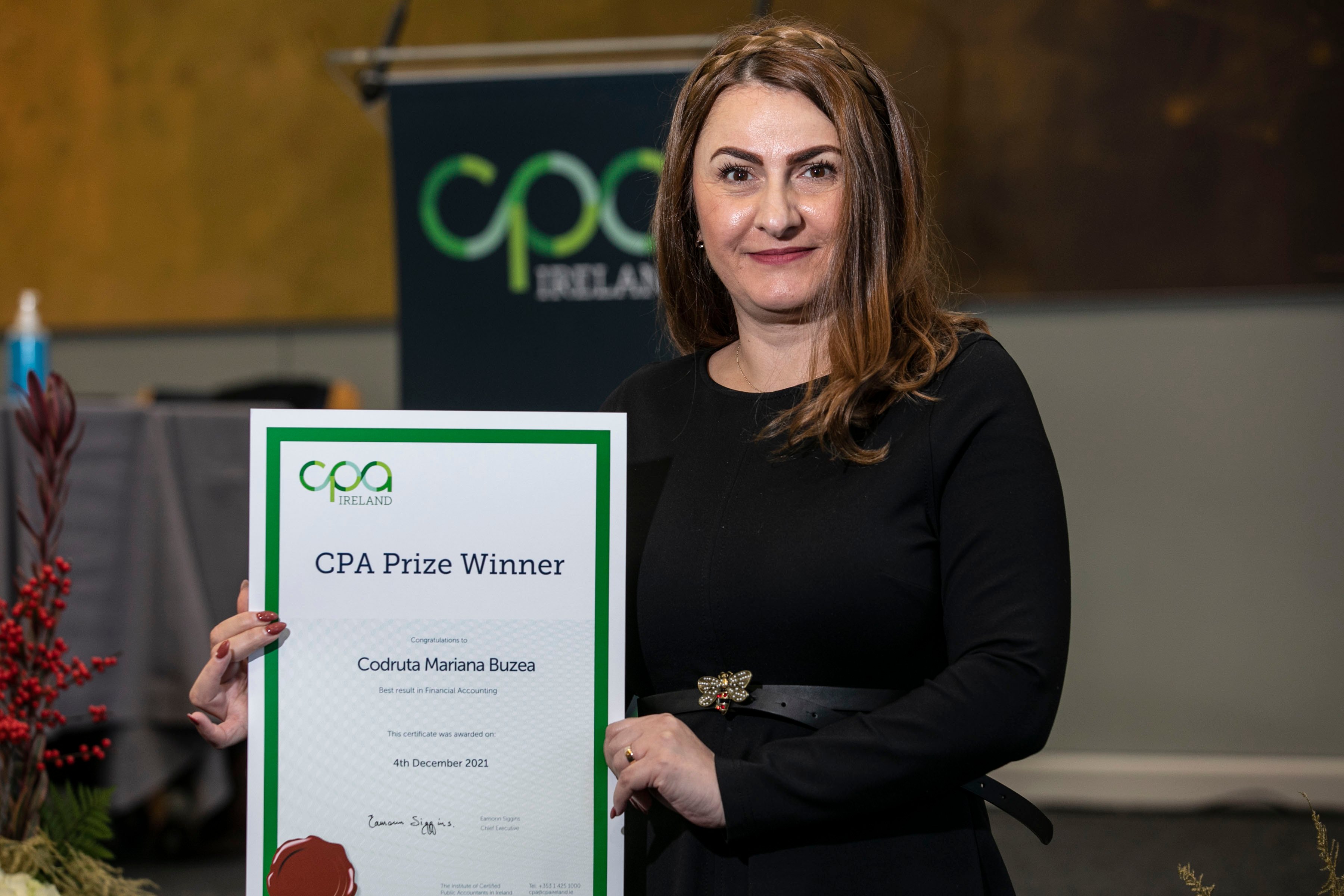 Codruta Buzea
1st in Ireland for CPA Financial Module
Previous Winners
2021
Eamon Higgins
Management Accounting
1st in Ireland for CPA Financial Module
2021
Szu Zhang
Financial Reporting
1st in Ireland for CPA Professional Module
2021
Siobhan Jordan
Management Fundamentals
1st in Ireland for CPA Financial Module
2021
Maree Glancy
CPA
1st in Ireland for CPA Financial Module
How to Apply
September-April 2024 online registration will open soon.
New and existing students should click on 'Apply Now' button in the grey banner bar above. 
New Griffith Professional Accountancy students:
Please click the 'Apply Now' button in the grey banner bar above and choose 'I am a new Griffith Student' and enter your details. We will then respond with further online registration details.
Registered Griffith Professional Accountancy students:
Please click the 'Apply Now' button above and choose 'I am an existing Griffith Student' you can then log in to your myGriffith account.
All previously registered Griffith College CPA students will be contacted via email with details of our online registration process.
Registration is via my.griffith.ie - using your Griffith College student number and date of birth in the format of dd/mm/yyyy.
Payment options and relevant forms are also available to download when registering online.
Sponsored students will need to complete the Sponsorship Form here: 
Instalment Payment plan available for April 2024 courses.
Complete Instalment Application Form during online registration
Entry Requirements:
View current CPA entry requirements on the CPA website.
Progression
Students must attempt exams in order by examination level, but there are no restrictions on the order of subjects you may take within an examination level. Should students wish to attempt examinations from the next examination level, they may do so, however, they must also register to sit the remaining subjects in their current exam level in the same exam sitting.
E.g. all remaining examinations at Foundation level must be applied for if attempting a subject(s) from the Professional level. All remaining Professional level examinations must be applied for if attempting a subject(s) from the Strategic level. The order of levels for CPA examinations is:
Foundation - 4 subjects
Professional - 6 subjects
Strategic - 4 subjects (2 mandatory and 2 electives)
Students may not attempt a subject from a higher level if the prerequisite subject(s) from lower level(s) have not been completed or exempted. For example, students may not attempt Strategic Level Advanced Financial Reporting, unless they have passed or been exempted from Professional Level Financial Reporting. Please refer to the Prerequisites Table for details.
Students are allowed a maximum of 4 examination attempts per subject -  these attempts do not have to be taken in consecutive sittings.