Edinburgh Business School Heriot Watt MBA
Course Overview
Prestigious MBA programme designed for experienced professionals to develop their skills in business administration
This online Master of Business Administration (MBA), run by Griffith College Limerick in association with Heriot-Watt, offers both intellectual rigour and applied business experience. Griffith College is a trusted learning partner for Edinburgh Business School, Heriot-Watt University.
Why Study Business Administration at Griffith College
Delivered over two years on a part-time basis, the MBA with Griffith College is available fully online. The programme has been designed for experienced professionals to grow their skills and prepare for new challenges and opportunities. 
A programme designed to fit your life. Work where and when you can, and take time off as you need.  
Students will gain an internationally recognised qualification from Edinburgh Business School, which has 43 Approved Learning Partners in over 30 countries worldwide. 
Study what interests you, with the choice of two electives from a list of 37. 
Take only the modules you need to, with exemptions for a range of academic and professional qualifications. 
Intake Dates
Cork - Blended - January 2024
Cork - Online - January 2024
Cork - Part-Time - January 2024
Dublin - Blended - January 2024
Dublin - Online - January 2024
Dublin - Part-Time - January 2024
Limerick - Blended - January 2024
Limerick - Online - January 2024
Limerick - Part-Time - January 2024
Limerick - Blended - September 2024
Limerick - Online - September 2024
Limerick - Part-Time - September 2024
Cork - Blended - September 2024
Cork - Online - September 2024
Cork - Part-Time - September 2024
Dublin - Blended - September 2024
Dublin - Online - September 2024
Dublin - Part-Time - September 2024
Course Details
Delivered over two years on a part-time basis, candidates attend classes two evenings per week from 6.30-9.30pm and two weekends from 9-5pm per term. All classes are streamed live and recorded. Students must also allot time outside the classroom for personal study, readings and individual research. We work with candidates to develop time management skills and best practice study.
The MBA is broken down into 3 major awards:
Postgraduate Certificate in Business Administration
Postgraduate Diploma in Business Administration
Master of Business Administration
Year 1
Semester 1 (September – December 2023):
People, Work and Organisation
Delivering Successful Projects
Semester 2: (January - April 2024)
Economics for Business
Business Negotiation
Year 2
Semester 3 & 4: (2024/2025)
Leadership Theory and Practise
Strategic Marketing
Elective
Financial Decision Making
Developing and Executing Strategy
Current Semester Timetables
Course Syllabus
This course develops the students' appreciation for factors that influence how people behave at work and how these link to performance. Emphasis is placed on understanding individual differences, how these differences affect group dynamics and how organisational factors affect individual behaviour. Students are equipped with the skills and knowledge to positively impact individual, team and organisational performance in a variety of dynamic organisational contexts.
This course equips managers and business professionals with the knowledge, skills and competence to manage projects effectively using integrative concepts, tools and techniques. The fundamental concepts of the project management discipline are covered including how to set the decision-making mindset and how to assist organisations in materialising their strategic and change objectives.
The course critically examines the concept of leadership in organisations, explores major theoretical developments in how leadership is understood and provides opportunities for managers to reflect on real-life leadership issues. Across eight modules, key developments in leadership theories and how they apply to modern organisations are explored. The course hones in on some example settings for practice, including creative industries and projects, to explore alternative approaches to leadership. The role of leadership in setting and shaping organisational strategy is also examined, and contemporary issues of gender, culture and ethics are discussed. 
This course introduces students to fundamental economic concepts and the workings of the market system. Different market structures and their impact on organisations are reviewed and the role of government in the economy is examined. Macroeconomics is explored in the context of business impact and decision-making and international economic issues are also discussed.
The philosophy underlying this course is that marketing-oriented companies put customers first, are geared for long-term success and that this orientation must be championed by top management and infused throughout the whole organisation. Students are introduced to the requisite strategic marketing techniques such as strategic analysis and planning, implementation - via a number of integrated and synergistic marketing functions and activities - and marketing control, aided by an array of marketing metrics and digital developments. 
The course begins with a closer look at the current 'financial landscape' before examining the application of financial and management accounting tools relevant to critical financial decisions. These tools include: key performance indicators, break-even analysis, working capital management techniques and the budgeting process. Students also examine financial management techniques and consider the decisions that organisations face on investment, finance and dividend, and how an organisation ultimately makes those decisions.
This course is the capstone course in the online MBA programme. The core areas of strategic management are covered and the general management setting is used to integrate ideas across the core disciplines covered in the other MBA courses. Developing and Executing Strategy examines the evolution of management and academic thinking around strategy and strategic management over the past 50 years, reviews the diversity of contemporary strategy theory and practice and examines the role of strategy in the management of different types of organisations.
The course then examines different aspects of strategy including strategic intent, analysis, strategic options and implementation. The other management disciplines such as: leadership, organisational behaviour, economics, marketing and finance are also considered. Finally, an integrative framework for strategic decision-making is presented, which facilitates a holistic approach to complex business and management issues.
Course Contacts
Graduate Business School Griffith Professional Accountancy Programme Director Heriot Watt MBA & ACCA
Timetables
Timetables to be confirmed
How to Apply
Entry Requirements
The programme is available to Island of Ireland residents (all 32 Counties) only.
Typically applicants will hold a recognised first or second class honours degree, or equivalent professional qualification. Students who do not meet the undergraduate degree criteria may still be eligible for entry onto the programme if they possess relevant work experience along with recognition of prior learning i.e Level 6, Level 7
How to Apply
The application process couldn't be easier
Step 1: Click the Apply Now button below
That's it! Our Admissions Team will endeavour to contact you within 3 working days to request any additional documentation.
Fees
Please note that not all study modes may be offered at all times; for confirmation, refer to the Intake dates on the Overview tab.
MBA Tuition Fee: €13,500
Application is free and there is no commitment upon application
€1,500 non-refundable deposit on acceptance of your place
Students can pay the entire fee in September or in four instalments: September and January each year
Students can also pay per subject (€1,500 per subject taken)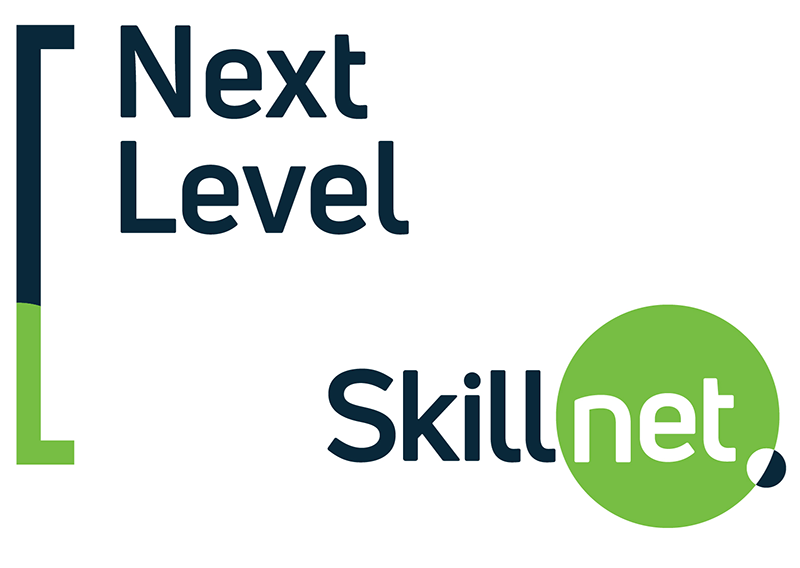 Potential Funding available for 2022/2023
This course has been approved by Next Level Skillnet for a fees subsidy of up to 40% for students whose company is a member of the Next Level Skillnet Network and who meet their eligibility criteria.  
Please note that we cannot guarantee funding as there are only a limited number of subsidies available.
How do we become a member?
Click here for more information
Progression
Academic Progression
Graduates of this course have the option to continue their studies at Griffith College. We offer a number of options including:
You can contact our admissions team to discuss what progression options are available to you.
Career Progression
Through the Master of Business Administration, you will have gained valuable professional experience, built a strong foundation of communication and presentation skills, and covered a diverse range of topics. There is a wide range of career options for our graduates including:
Human Resources Manager
Financial Analyst
Management Analyst
International Banking
Business Development Executive
Digital Marketing Director
Sales Assistant
Business Analyst
Product Manager
Accounts Receivable/ Payable Accountant