Do you play a traditional Irish music instrument? Would you like to know what level you're at on the LSMD Traditional Irish Music Syllabus? The Leinster School of Music and Drama is inviting you to submit a 90-second music performance to our team of examiners, who will review and determine your level. Candidates will have the opportunity to progress onto the LSMD Grade Examinations as a fee-paying student if they wish.
Free Pre-Exam Assessment
For a limited time, the LSMD is offering Traditional Irish musicians the opportunity to get a free pre-exam assessment on their ability. Once you apply and upload your 90-second piece, our team of examiners will review and confirm what level you are at.
Established Panel of Examiners
​Your submissions will be reviewed by the LSMD's esteemed panel of judges who are practitioners in this field with decades of experience. The LSMD has been a national examining body since 1908 and as such are well-positioned to give an assessment of your current ability. The panel of judges will be led by our lead examiner, Catriona Grimes.
Progression Path
Prominent Students
​Both past and present students of our LSMD Grade Examinations have performed at a national and international level, whether it's performing at the National Concert Hall or touring the globe with opera and orchestra companies.
About The Leinster School of Music and Drama (LSMD)
The LSMD is an established national examining body in Ireland and the centre for excellence in music and drama education and training since 1904. Since its founding, the school has produced an array of accomplished performers and pedagogues. 
Our mission is to nurture and support music and drama education and training. Through the LSMD, graded music and drama examinations, diplomas and teacher training courses, our aim is to make music and drama tuition and training accessible.
Submit an application using the form linked in the "Online Application Form" section below.
Meanwhile, record yourself introducing and playing your chosen 90-second repertoire and submit it according to the instructions in the section titled "How do I submit a piece for examination?" below.
Once we successfully receive your submission, we will send you a confirmation email.
Your submission will then be passed onto our team of LSMD examiners who will review your submission and determine your ability.
We will send you an email confirming what level you are at.
Record yourself introducing your name and the name of your chosen repertoire. See sample video for more information and guidance.
Save the recorded pieces as Your Name, Instrument, Grade and Email Contact
Share your video with the LSMD on Dropbox using

[email protected]

You will receive a confirmation email once your submission has been successfully received. Please note that your application is only considered to be submitted once you receive a confirmation email from us.
Your submission will be reviewed by our LSMD examiners, who will confirm what level you are at. Candidates will have the opportunity to progress within the LSMD if they wish.
A wide choice is facilitated; candidates can select from our suggested repertoire, or perform a tune of their own choice.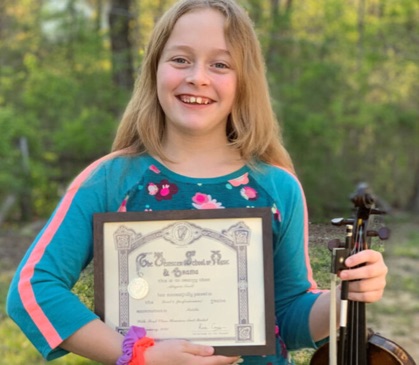 "I have really enjoyed participating in the online Irish traditional fiddle exams. Through the process of recording the videos to submit to the examiner in Ireland, I learned a lot about the history of the music, and my teacher, Tom Morley, taught me so much about proper bowing techniques and ornamentation. I found that at times it was difficult to get the tunes just right, but it was definitely worth doing in the end when I received each certificate. I think that preparing for each exam has challenged me to become a better musician, overall. It's really cool, and I feel very honored that I'm the first person in the world to have both level 3 and level 4 certificates."
- Abi Snell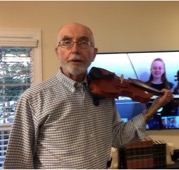 "I recently received my Level 3 Certificate in Irish Traditional Fiddling from the Leinster School of Music and Drama at Griffith College in Dublin, Ireland. I started to play the fiddle a couple of years ago, and a year and a half ago was fortunate to find Tom Morley, an outreach teacher for the LSMD's online Irish Traditional Music Exam programme. Tom introduced me remarkably well to Irish Traditional Fiddling and it has captured my imagination. I would like to thank the Leinster School of Music and Drama and Tom Morley for this opportunity." 
- Tom Prevost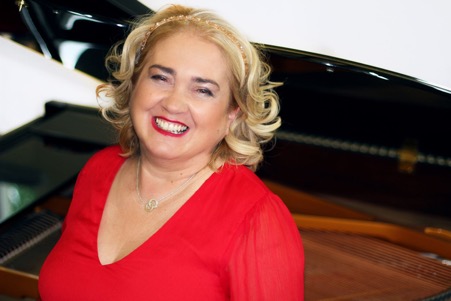 The examiners are led by Catriona McElhinney Grimes, an Irish classical pianist and violinist, versatile as a chamber musician and accompanist. She is best known as a song pianist and has performed recitals with singers such as Catrina Scullion Finn, North Dublin Opera, and Colette Delahunt. In addition to her accomplished career as a solo pianist, she is a regular duo performer and works with many of Ireland's artists.
Her early training began with her mother and continued as a scholarship student at the Royal Irish Academy of Music in Dublin. Catriona studied at Trinity College London, where she was the recipient of many awards. She has an extensive solo repertoire and has broadcast for both RTE and BBC.
Catriona is the lead examiner for the LSMD grade examinations, a position she has held for ten years. She has given masterclasses at numerous workshops on exam syllabi and has been an official accompanist at competitions, festivals and auditions.