Here at Griffith College, we often hear from students or potential students that they'd love to go back to college but they just couldn't manage it because of work. But what they actually mean is that they couldn't manage to go to a traditional college because of their work demands.
That's why we've designed a range of innovative courses that are specifically designed for people in the modern workplace. And there's no better example of that than four of Ireland's brightest rugby stars – who are set to light up the Spring as a part of Ireland's Six Nations squad.
While you mightn't think of rugby players as having normal jobs, when you dig into it – they've got just as many demands as most other 'normal' employees – if not more! They've got training most mornings, gym work in the afternoon, countless hours of video analysis, sessions with sports psychologists, massages, physiotherapy as well as media obligations.
Finding the right work-life balance
And that's before you get to the games at all – the travel, the warm-up, the intense physicality. They've got more on their plate than most of us – but four of Joe Schmidt's current squad still managed to find the motivation to better themselves (and boost their career prospects after their rugby careers finish).
If your excuse was that you're too tired after work to think about college – can you only imagine what these guys have gone through?
So – which Ireland stars turned to Griffith College for their educational needs?
Hooker Sean Cronin, winger Fergus McFadden and back-row Sean O'Brien all chose a part-time degree in Business - which allowed them to fit college around their hectic schedules - while rising star full-back Jordan Larmour recently completed a Certification in Dual Career Development (Sport).
We'll look at the approach each took with that all-important work-life balance when it comes to combining their stressful day-jobs with education.
Jordan Larmour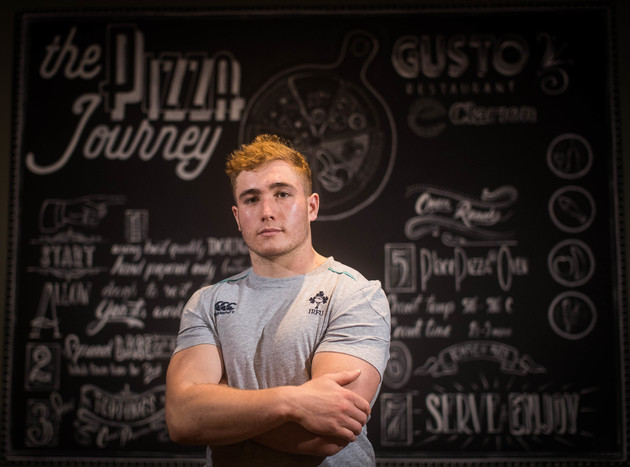 Maybe the most talked-about recruit to an Irish squad since Brian O'Driscoll – Larmour has been hinted at as the secret weapon in Ireland's squad for this season's Six Nations. He's still only 20 years' old but his explosive pace and elusive running style have seen pundits call him the talent of a generation. If you think that's too much hype – just click here to see the scintillating try Larmour scored against Munster.
With all that Larmour has on his plate as the new superstar of Irish rugby, he still had time to complete a Certificate in Dual Career Development here in Griffith College. The course is aimed at developing the business and communication skills of people involved in the sporting world and counts Olympic boxing medalist Michael Conlon amongst its graduates.
"I really enjoyed my time in Griffith College, meeting with great people from other sporting backgrounds such as horse racing and soccer," said Larmour. "I found the flexibility and content of the course to be really valuable to me". 
Sean Cronin
The 31-year old Limerick man is known for his determination on the pitch – his rampaging ball-carrying has become something of a trademark – and he carried that very same attitude into his education. Cronin, who has 56 caps for Ireland, chose the part-time degree in Business to boost his post-career prospects and he feels that he's in the same boat as a lot of his classmates.
He told the Irish Times "It can be tough to come in at night when you're wrecked after a day's training but most of the people in my class are also coming in from work. They're exhausted too but you have to get on with it."
Fergus McFadden:
The Leinster winger had previously studied economics and geography at UCD but found that the workload was incompatible with his day-to-day rugby. After speaking with his Leinster and Ireland compatriot Sean Cronin, he realised that the part-time degree in Business also fit in with his lifestyle. 
"I could study at night and switch over my credits from UCD," says McFadden. "It made sense. Being in Griffith has really worked for me, as it's meant I can manage my time and get into college in the evening after training and manage the amount of modules I can do each semester."
Sean O'Brien
The third of the Leinster quartet in Ireland's Six Nations squad, the Carlow native followed the well-worn path of his two teammates in pursuing Griffith College's part-time degree in Business. With a sports management degree under his belt, O'Brien took the Business course in Griffith College to prepare himself for a life after rugby.
And the lessons he's learnt have certainly seemed to have made an effect. O'Brien currently part owns two phenomenally successful bars in Dublin (The Bridge in Ballsbridge and Lemon and Duke just off Grafton Street). He's also the high performance director for The Hub Controller – a home energy management system.
While O'Brien is set to miss the start of the Six Nations campaign with a hip injury – but from the list above – he has more than enough to while away the time!
Practical tips for juggling work and college
There are many routes to further education and each way is unique to the type of student you want to be. In general, our top tips for juggling work and college are;
1 - Start using a diary
Whether it's an app on your phone or a traditional one on paper - you are going to need to start planning out your days. You'll have assignments, lectures, tutorials and group projects to manage on top of your day job. 
2 - Talk to your lecturers
If you are going to be away for work for a week or two - then talk to your lecturer about how you can work around it. They are there to help you - so it's usually just a matter of keeping up with your course work.
3 - Socialise with your classmates
Even if you are doing an online course - there will be a class discussion board. But reaching out to your peers and building a network is one of the most important things you can gain from college. You'd never know when those contacts might come in handy.
So, there you have it. If the lads who are wearing the green shirts can find the time to balance study and work then you have no excuse!